Garage Door Repair Umm Suqeim 2- What to Do with Emergency Struck?
Being ready might make all the difference in an emergency with your garage door because they can happen anytime. If you reside in the Umm Suqeim region, you know the value of a functional garage door for convenience and security.
This comprehensive guide will assist you in getting ready for garage door crises and ensure you're equipped to deal with unforeseen circumstances quickly and effectively. Alternatively, you might use our Garage Door Repair Umm Suqeim 2 service!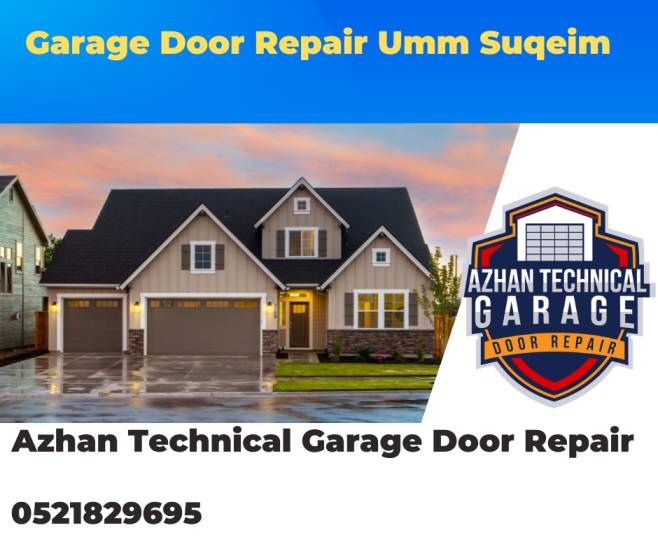 Some Situations to Prepare For
Recognizing the potential emergencies your garage door might face is essential before beginning the preparedness procedure. These may consist of:
Sudden Breaking of the Springs: Your garage door depends on its springs to operate. If they crack, it could be unsafe to open or close the door because of the difficulty. 1. Power Cuts: Power outages might make your automatic garage door opener unusable and force you to operate the door manually.
Damage: Accidents happen, and your garage door might be harmed by a car accident or other unplanned circumstances.
Faulty Sensors: Garage doors with sensors may experience alignment or performance problems. This may make it more difficult for the door to identify impediments and increase the risk of accidents.
Door Slides Off Track: If a garage door slides off its tracks, it can jam and possibly come off totally if it is not fixed very away.
How Do We Do It?
Find the Problem: Recognizing the emergency is the first step. Remain composed and evaluate the circumstances to decide how serious the problem is. It is recommended to call us and let our professionals handle the remainder if you are unclear about what is happening.
Plan: We will determine the severity of the damage and acknowledge the situation. The door may be jammed, half open, or slid off its rails. We can choose the best course of action by determining the issue.
Determine Action Plan: We shall act in accordance with our evaluation. You can resolve simple problems, like sensor misalignment, on your own. However, our specialists will handle it for serious issues like broken springs or an off-track door.
Keep Yourself Prepared All the Time
Consistent Upkeep: Prevention is crucial. Make regular garage door maintenance checks to find and fix possible problems before they become emergencies.
Contact Professionals: Keep the phone numbers of reputable garage door repair companies, like ours, in case of an emergency. In an emergency, having a dependable expert on speed dial can help you avoid unnecessary time and stress.
Basic Tools: Stock up on lubricants, pliers, and tools like a wrench. These can be helpful for upkeep and little fixes.
Develop Basic Troubleshooting Skills: Learn how your garage door operates. In case of power failures, learn how to detach the opener and open the door by hand.
Conclusion
You may successfully handle garage door emergencies in the Umm Suqeim area by following these instructions and being prepared. Although certain problems can be handled independently, getting professional assistance for difficult situations is always advisable to guarantee safety and appropriate repairs. So, call us for Garage Door Repair Umm Suqeim 2 service when you have an emergency next time!